Comment and I'll give you a color. Then post an entry with a list of things that you like/love which are that color.
zusu
FINALLY gave me
BLUE
. ilu x)

The color
itself. It's my favorite color. I find it so pretty...<3 When i write online, it's usually blue. When i sketch on the computer, it's blue. When i edit a photo, it'll usually be tinted blue xD
My black and blue glasses <333333 I LOVE these. I think they day i can't wear these anymore, i'm going to cry. I've had them for...5 years now i think =O a lot of people always comment about my glasses xD

my camera
. even though it's falling apart and it's taking sort of bad quality images nowadays...i took a lot of great shots and it means a lot to me.
The New Cities' album Lost in City Lights. This album, this band started my whole show-crazed last year. Almost a year ago exactly. Met so many people thanks to this ONE band that started it all for me.
the beach,
the ocean
. always so many great memories from my trips to the beach. so many memories with people i know i won't see again...
Facebook, MySpace, Twitter and LJ
. (take out AT&T and replace by LJ?) Their logos are blue. They are some of my addictions...i spend way too much time on there...I also discover a lot of bands on myspace/facebook x)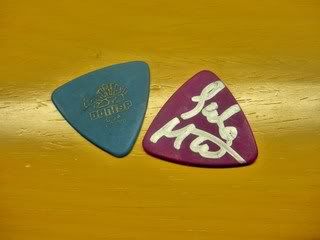 My blue bass pick from Julien. (I forgot the purple one...could've gone in my purple answers haha) It means a lot to me because it was the first pick i EVER got at a show. And it was handed to me directly. <3
BLUE
CANDY
<3 especially blue raspberry <333
Pornstar drink
. One of my faves <3 It has 7Up, Blue Curacao and Sour Puss i think. YUMMY <3
My blue
skinny jeans
<3 and blue clothes in general...a lot of my clothes are black or blue...they fit with my glasses xD